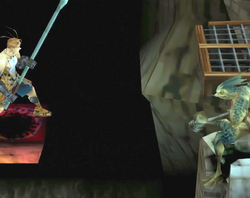 Vagrant Story relies heavily on usable and often consumable inventory items as part of gameplay. For the majority of Grimoires, there is an item with the same effect, such as the Eye of Argon that reveals traps in the same way as the Eureka spell, or the Angelic Paen item that cures Curse just as Blessing does.
Items can be accessed either from the main menu, with the Triangle button, or by holding the second left shoulder button (L2) and tapping the Up button on the D-Pad or joystick.
Grimoire
Edit
All spells in Vagrant Story are learned by using them, in the form of Grimoire (meaning Book of Spells) items obtained from Bosses and even regular enemies. Area of effect spells such as Explosion and Meteor will become more powerful as successive Grimoires are consumed. Single-target spell Grimoires will always cast the spell for zero MP, but additional books have no effectafter the spell is learned; no increased damage or range. Grimoires can be retrieved from chests for all but a few spells. Therefore the vast majority of single-target Grimoire drops are only useful to get the spell early. It is not possible to get them that much earlier, in most cases, and in most cases it requires a lot of work. None of these restrictions add to gameplay and there does not seem to be a very good balancing reason for them either.
All locked doors are opened with inventory items. Some are held fast with either a normal lock requiring a named Key. This Key must be carried to open the door; if it is put away in a Container, the door cannot be opened. Some Keys can only be obtained in a Second playthrough.
Bronze Key opens doors in areas:
Sigils work on only one door and then crumble to dust. They dissolve the Arcane obstructions created by Sydney and Hardin, constructed of warding spells merged with the more physical presence of ancient Kildean magical script. When the Sigil's counterpart, hidden away by Sydney in the more remote recesses of Leá Monde, is used on the door, both halves of the Sigil vanish, making the door accessible once more. Some Sigils can only be obtained in a New Game Plus.
Sigil
Area
Room
Source
Opens doors in/to:
Acacia Sigil
Great Cathedral L1
A Light in the Dark
Arch Dragon
The Hall of Broken Vows
south door to
The Melodics of Madness
Anemone Sigil
Iron Maiden B1
Knotting
Wyvern Queen
Keep
Earth Dragon
Timed Trial
Aster Sigil
Undercity East
Catspaw Blackmarket
Chest
Limestone Quarry
Main Door
Azalea Sigil
Iron Maiden B2
The Shin-Vice
Ogre Zombie
Keep
Death+Ogre Zombie
Timed Trial
Calla Sigil
Great Cathedral L2
Hall of Broken Vows
Flame Dragon
The Heretic's Story
into
Hope of The Idealist
Cattleya Sigil
Undercity West
Fear of the Fall
Dark Elemental
Rue Crimnade
into
Junction Point
Chamomile Sigil
Wine Cellar
Gallows
Minotaur
Smokebarrel Stair
into
Room Of Cheap Red Wine
Clematis Sigil
Undercity West
Larder for a Lean Winter
Chest
From Boy to Hero
into
A Welcome Invasion
Colombine Sigil
Iron Maiden B1
Burial
Iron Golem
Keep
Dragon
Timed Trial
Eulelia Sigil
Undercity East
Bazaar of the Bizarre
Lich
The Dreamer's Climb
into
Sinner's Sustenence
Fern Sigil
Abandoned Mines B1
Coal Mine Storage
Chest
Live Long and Prosper
into
Pray to the Mineral Gods
Hyacinth Sigil
Abandoned Mines B1
Battle's Beginning
Wyvern
The Earthquake's Mark
into
The Passion of Lovers
Kalmia Sigil
Iron Maiden B1
Starvation
Wraith
Keep
Minotaur
Timed Trial
Laurel Sigil
Great Cathedral L1
Monk's Leap
Lich
The Poisoned Chapel
into
A Light In The Dark
Lily Sigil
Catacombs
Beasts' Domain
Lizardman
The Withered Spring
into
Prisoner's Niche
Mandrake Sigil
Iron Maiden B1
The Cauldron
Wraith
Rue Aliano
into
The House Kazabas
Marigold Sigil
Iron Maiden B2
The Saw
Dragon Zombie
Keep
Damascus Crab
Timed Trial
Melissa Sigil
Undercity East
Gemsword Blackmarket
Nightstalker
The Laborer's Bonfire
into
Stone and Sulphurous Fire
Palm Sigil
Great Cathedral L3
Hopes of the Idealist
Dao
The Melodics of Madness
into
What Ails You Kills You
Schirra Sigil
Iron Maiden B2
Pressing
Ravana
Keep
Damascus Golem
Timed Trial
Stock Sigil
Undercity East
Sale of the Sword
Chest
Reopens The Gallows
in Wine Cellar
Tearose Sigil
Abandoned Mines B2
Dining in Darkness
Sky Dragon
Iron Maiden B1
Main door
Tigertail Sigil
Iron Maiden B3
The Iron Maiden
Asura
Keep
Asura
Timed Trial
Verbena Sigil
Iron Maiden B2
Ordeal by Fire
Dark Dragon
Keep
Snow Dragon
Timed Trial
Restoration
Edit
HP restore, MP restore, RISK reduction, effect negation |- bgcolor=#004922|- bgcolor=#004016|- bgcolor=#003313|- bgcolor=#002410|- bgcolor=#001907 |- bgcolor=#002249|- bgcolor=#001640|- bgcolor=#001333|- bgcolor=#001024|- bgcolor=#000719 The Best Drop does not include bosses or other single appearance monsters, nor, obviously, chests
| Name | Effects | Best Drop |
| --- | --- | --- |
| Cure Root | Restores 50 HP | 52/255, Repent, O ye Sinners and Hallowed Hope |
| Cure Bulb | Restores 100 HP | Numerous, many conditional spawns |
| Cure Tonic | Restores 150 HP | Bonds of Friendship, 32/255 |
| Cure Potion | Restores HP to maximum | 8/255, 2nd playthrough, Tormentum Insomniae |
| Mana Root | Restores 25 MP | 32/255 The Squire's Gathering |
| Mana Bulb | Restores 50 MP | 48/255, Numerous |
| Mana Tonic | Restores 150 MP | 32/255, Numerous |
| Mana Potion | Restores MP to maximum | Squassation and Lead Sprinkler, 32/255 |
| Vera Root | Lowers RISK by 25 | 255/255, both Stirges, Dreamers' Entrance |
| Vera Bulb | Lowers RISK by 50 | 32/255, Numerous, |
| Vera Tonic | Lowers RISK by 150 | 32/255, Hall of Prayer |
| Vera Potion | Reduces RISK to zero | 32/255, Wraith in Parting Regrets |
| Acolyte's Nostrum | Restores 100 HP and MP | 48/255, Wraith, Sinner's Sustenence (sic) |
| Saint's Nostrum | Restores HP and MP to maximum | 32/255, 1st playthrough, Skeleton (One Arm) in The Academia Corridor. 2nd: 38/255 Death, room next to "Godhands" |
| Alchemist's Reagent | Restores 25 HP. Lowers RISK by 25 | 12/255 Hallway of Heroes |
| Sorceror's Reagent | Restores 50 HP. Lowers RISK by 50 | 32/255 Minotaur Lord The Chapel of Meschaunce |
| Yggdrasil's Tears | Removes Paralysis effect | 48/255 Treaty Room and Where Weary Riders Rest |
| Faerie Chortle | Removes Poison effect | 255/255 Numerous incl. Treaty Room |
| Spirit Orison | Removes Numbness effect | 48/255 Where Weary Riders Rest |
| Angelic Paean | Removes Curse effect | 64/255 Harpies (both types) |
| Panacea | Removes Paralysis, Poison, and Numbness effects | 26/255 Conflict and Accord |
Elixirs and Magical Effects Items are most easily acquired as rewards for progressing in the main storyline, but they are found, at low rates, elsewhere. Snowfly Draughts' drop rate reaches its maximum in Snowfly Forest and enemies that drop them are most common there. Faerie Wings always drop from certain Ichthious.
+ First playthrough 13/255 Dummies and Minotaur Zombie